Underfloor Heating
and
Underfloor Heating Installers
Birmingham, West Midlands



Underfloor Heating Specialists
-

Jazz Heating

Underfloor heating over recent years has become the must have feature that people are wanting in their property. Having underfloor heating installed in Birmingham and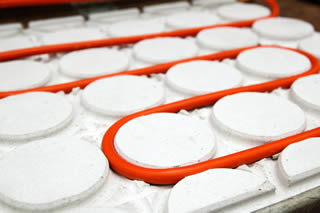 West Midlands is a relativity straight forward job to do and is a very effective for giving a even distribution of heat around your living space, another bonus is you do not need to have radiators installed which will give you extra room.
The underfloor heating concept was adapted from Roman times as they used this principle as a way of heating rooms and buildings, it also offers health and energy efficiency benefits.
Jazz Heating Gas Safe Registered engineers are experienced in installing, servicing and repairing underfloor heating systems in homes and businesses in Birmingham, West Midlands and throughout the UK.

Where Can I Have Underfloor Heating Installed?
Underfloor heating can be installed anywhere in your property, generally most people have it installed in a kitchens, bathrooms, conservatory or a new extension. Underfloor heating can also be combined with your existing central heating system, allowing some rooms to have normal wall mounted radiators and others underfloor heating.

How Does Underfloor Heating Actually Work?
Standard gas boilers are able to provide the heat source, then pipes are installed under the floor, heated water from the underfloor pipes then transfers upwards into your room so that it is heated evenly.

Are There Benefits Of Having Underfloor Heating?
Underfloor heat is distributed far more evenly than conventional wall mounted radiators do, wall mounted radiators will tend to heat the area most where the radiator is located.
Having underfloor heating installed can help you save anywhere up to 35% on your yearly gas energy bill as well and helping you to also reduce your carbon footprint. Another benefit to having underfloor heating installed in Birmingham and West Midlands is that it gives you total control of your design and room layout as there are no wall mounted radiators or pipework to have to work around.
For all Underfloor Heating & Underfloor Heating Installer needs in Birmingham & West Midlands make Jazz Heating your first choice. Call us today: 0800 999 5560