Landlord Gas Safety
and
Gas Safety Certificate
Birmingham, West Midlands



Gas Safety Certificates
-

Jazz Heating

If you are a landlord and you rent a property/properties that have gas appliances installed then you need to make sure that you are complying with the law regarding gas safety.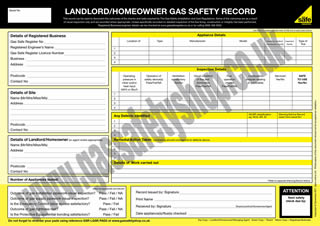 In 1996 it was made law that a landlord that rents part or all of a property must have all pipework, flues and appliances serviced and maintained every 12 months by a Gas Safe registered installer.
Jazz Heating are able to handle all your gas safety requirements in Birmingham and West Midlands for domestic and commercial property rentals. We have seen year on year our client base increase because of the good, reliable and honest service we provide. We are able to offer an ongoing service and maintenance on all gas appliances, central heating systems and plumbing you may have in your property/properties.
Landlord Gas Safety Certificates - Birmingham
Upon successful completion of your gas safety check on all appliances in your rental property we will then issue you with a gas safety certificate (CP12) confirming that all appliances in the property have been checked and are safe to use.
You must give a copy of the gas safety certificate to your tenant within 28 days of it the safety check being carried out or before they move in. You should also keep a copy of the certificate for your own records for 2 years.
What's Included In A Landlord Gas Safety Inspection:
Check each appliance for gas soundness
Check standing and working pressure if test points available.
Check burner pressure / gas rate against manufacturers data plate.
Check for satisfactory provision of all necessary ventilation.
Test flue flow to ensure removal of products of combustion.
Check satisfactory operation of all the flame failure devices.
Check for physical stability, presence and effectiveness of stability brackets (where appropriate).
Investigate any evidence of unsafe operation and report to a responsible person. An appliance can not be deemed as having been checked, until the above has been completed.
For a Landlords Safety Record inspection a soundness test of the full system should be added to the above.
What if I Don't Have A Landlords Gas Safety Certificate?
Incorrectly fitted, repaired or maintained gas appliances are the biggest cause of carbon monoxide poisoning, the real danger with carbon monoxide also known as (CO) is that you cannot see it, hear it or smell it making it lethal which kills around 25 people a year.
That is why it is really important to have a landlords gas safety certificate as you could be putting yourself and your tenants at seriously at risk of carbon monoxide poisoning as well as breaking the law!

Book Your Landlords Gas Safety Certificate - Birmingham
To book your Gas Safe Registered engineer simply call us today on the phone number below of fill in the "Get in Touch" section to the right of this page and we will contact you to discuss your requirements.
For all Landlord Gas Safety & Landlord Gas Safety Check needs in Birmingham & West Midlands make Jazz Heating your first choice. Call us today: 0800 999 5560